We caught up with our 2021 PetSure Future Vet Kids Camp Scholarship winners Daisy and Rebecca to get a behind the scenes peek at camp life and discover just what it takes to become a future Vet.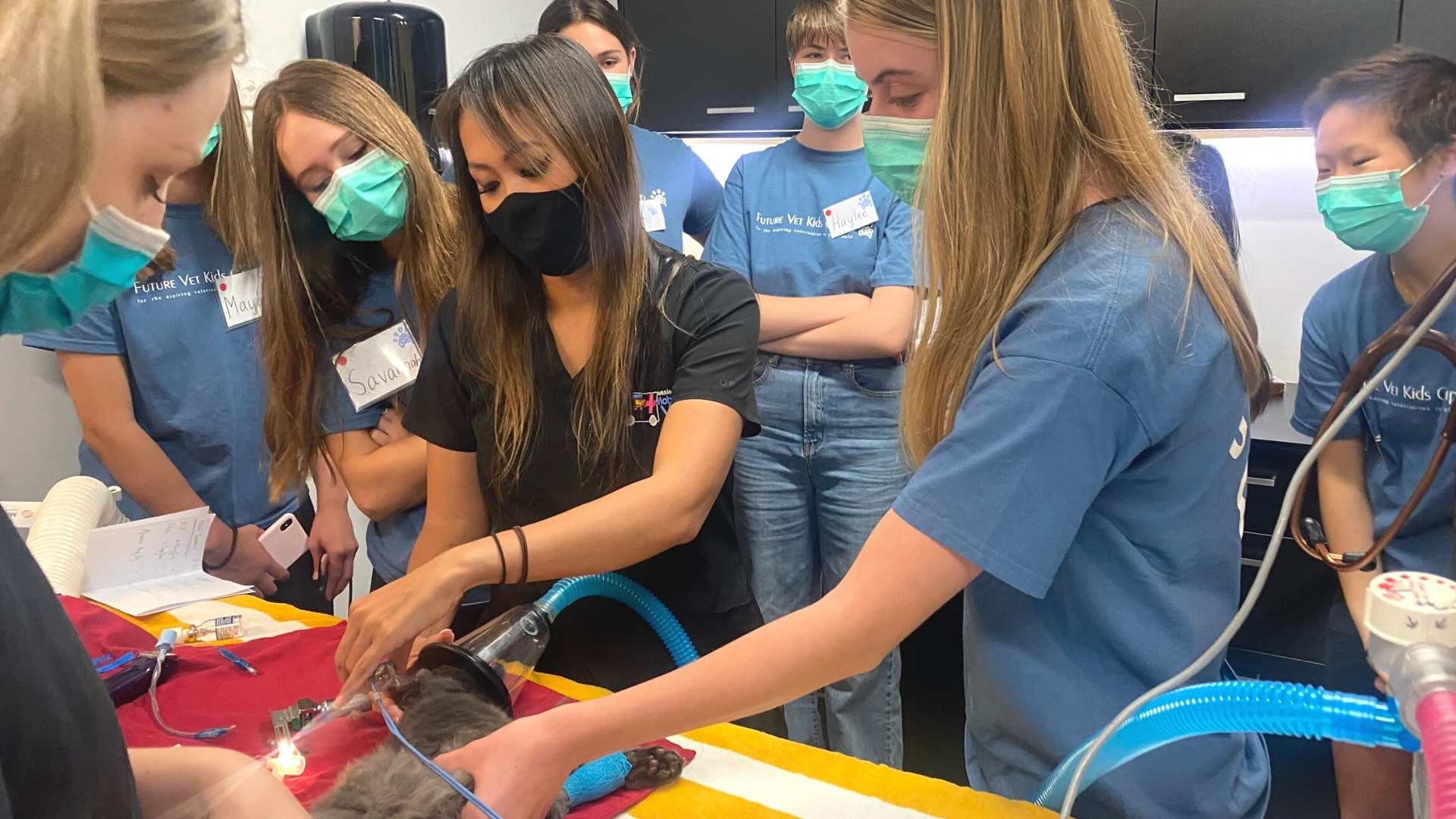 So Daisy – why did you want to attend the Future Vet Kids Camp?
"It was my mum's idea! She encourages us all to chase whatever we are into, and knowing my love for animals, this is the perfect starting block for my future."
Sounds like you have a great mum there! What about you Rebecca?
"I actually found out about this camp from a friend's mum who saw the advertisement on Facebook and thought of me. As soon as I looked at the camp's website and program, I knew that I wanted to apply. I thought that it would be an amazing experience which could help me build more skills and connections within the Veterinary industry."
What part of the camp were you most excited about?
Daisy: "Wow, where do I start. EVERYTHING. I'm so excited to take in everything."
Rebecca: "I am most excited to meet other young people who share my passion for animals. I am also looking forward to learning from a variety of industry professionals about their journey, experience and skills."
Daisy – how did you feel when you found out you were a PetSure Future Vet Kids Camp Scholarship winner?
"I cried! Mum called all the kids in for a family meeting and told everyone. Everyone was cheering and hugging me, it's the best news we have had in such a long time. I still can't believe it. I'm definitely blessed and so thankful."
What a beautiful response! Rebecca how about you? Were you surprised?
"I couldn't contain my excitement. It meant so much for me to receive the scholarship, which is the only way I would be able to attend."
So you both graduated camp last week – congratulations! We'd love to hear about your experience. Rebecca let's start with you – how did you find the camp?
"The Future Vet Kids Camp was an amazing experience for me. It really opened my eyes to a variety of aspects and specialisations within Veterinary science. I also loved meeting new people who shared my passion for animals as well as those who are well established in their field."
That's fantastic! And Daisy?
"It was amazing. I have made life-long friends and it was so organised. I've learned so much and definitely know that becoming a Vet is what I want to do as a career. This awesome camp was life changing."
And what was your favourite part of camp?
Daisy: "There were too many highlights to mention; everyday had something new. Meeting new friends, going to watch Dr Audrey Shen in surgery at her clinic was a game changer for me. It was so exciting being up close to her working. Western Sydney University lecture was mind blowing and getting hands on was something I never expected. Seeing the workings of animals was so interesting."
Rebecca: "I think my favourite session over the whole camp would be the suturing workshop. I really enjoyed learning a new skill that will be so important for my career. Being able to learn a variety of Veterinary skills from the specialists who presented at camp was definitely a highlight for me. I also enjoyed watching Dr Audrey Shen perform a surgery and hearing her explain every aspect of her work to us as she did it. We were invoked in calculating doses, drawing up medications and even scrubbing the patient!"
Sounds like a fantastic experience. Did you learn anything that surprised you?
Daisy: "Definitely Dr Audrey had the biggest impact on me. Listening to her teaching drew me in, watching her in her clinic and the way she operated was mind blowing. She has inspired me in so many ways. I will be forever grateful for her and for this amazing experience. The whole team at Future Vet Kids Camp are the best."
Rebecca: "Learning about the Veterinary aspect of kangaroos and other wildlife in the 2020 bushfires was probably the most surprising and impactful aspect of the camp for me. We really got to understand the way that Vets and wildlife organisations banded together to do as best they could with the limited resources available at the time. I enjoyed hearing about the innovative approaches and treatments that they used to reduce pain, heal deep burns and rehabilitate Kangaroos back to release, especially given my existing interest in wildlife."
And the big question – do you still want to be a Vet?
Daisy: "Absolutely. I now have a goal in life, and I know what career that I want. I will be forever grateful for the scholarship from PetSure. They really have changed my life! I hope to be able to give back to PetSure and the Future Vet Kids Camp sometime in the near future by helping guide the Wombats (the 9-11-year-old camp attendees) or maybe even speaking as a Vet."
Rebecca: "Attending Future Vet Kids Camp has inspired me to continue along the path to becoming a Vet. The fact that I found everything that we did throughout the week fascinating and exciting, allows me to be sure that being a Vet is really what I want to do in my life.
I just want to encourage anyone who is interested in becoming a Vet to attend Future Vet Kids Camp, as it was an amazing experience that demonstrates many aspects of the Veterinary and animal care industry. I would also like to thank PetSure for providing me with this scholarship and the opportunities that came with it."
We're so glad you had a good time at camp Daisy and Rebecca. Our future pets are in good hands!
Learn more about the Future Vet Kids Camp at futurevetkidscamp.com