Essential oils are derived through an extraction process from plants, flowers, bark and wood, and are increasingly used for aromatherapy practices, perfumes, around the home and for personal care. But whilst these beautifully scented oils can be a lovely addition to our homes, it's important to know that there are some products that are in fact toxic to our pets. Let's take a closer look at this topic.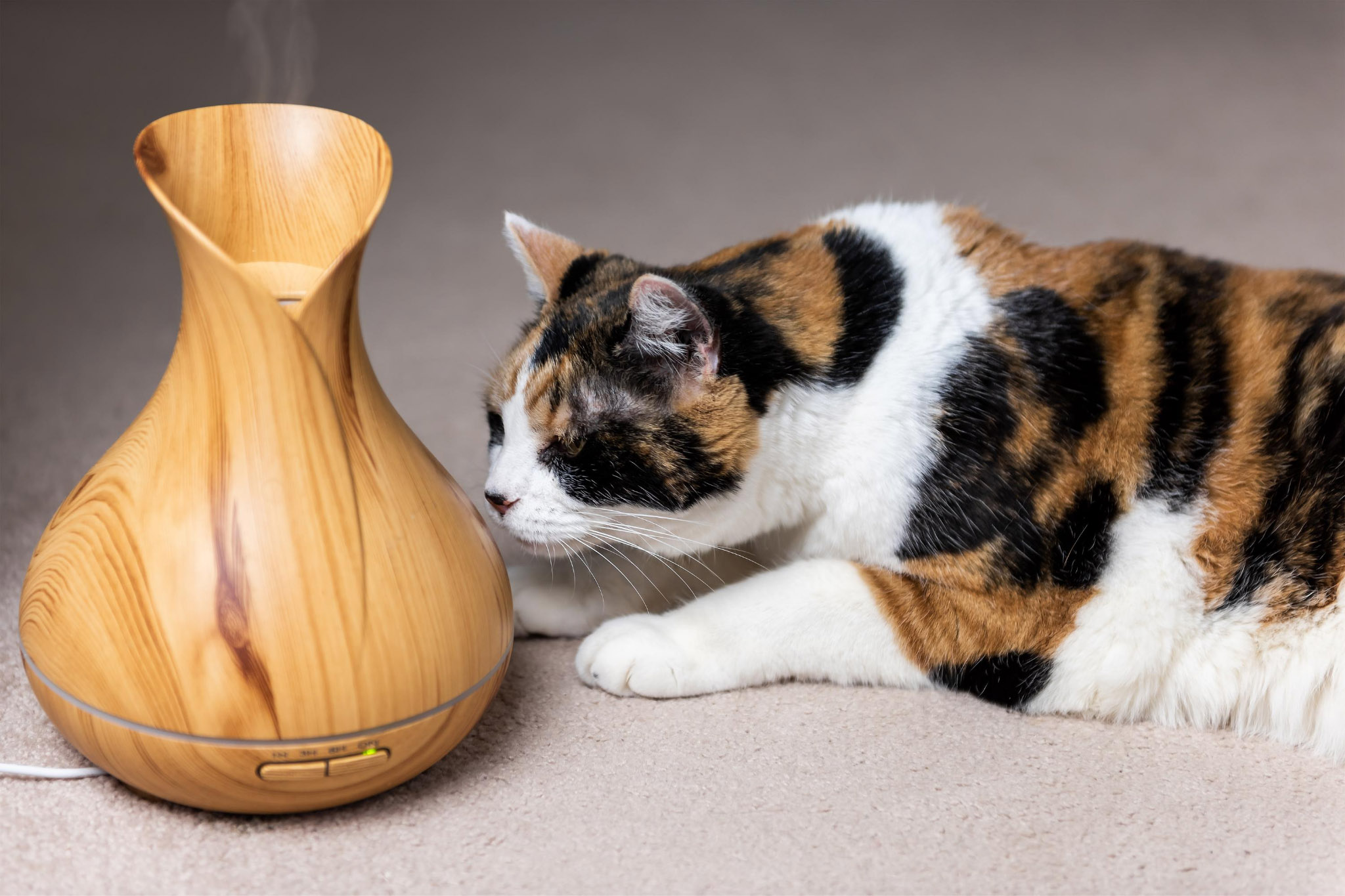 Why are essential oils toxic to pets?
Essential oils should not be ingested in any form by our pets.
Cats lack the essential enzymes in their liver to metabolize and eliminate the chemical compounds in essential oils, therefore all essential oils have the potential to be toxic to cats. Dogs do not have the same enzyme deficiency, but they can still be at risk of irritation or toxicity due to the concentrated nature of essential oils.
How to safely use essential oils around pets
To safely use essential oils around our pets, we first need to understand a bit more about how essential oils are most commonly used in our homes.
There are two broad categories of essential oil diffusers that you can buy, categorised as 'active' or 'passive' diffusers. Active diffusers emit particles of the oil into the air creating a light mist. These include humidifiers and vaporisers, glass nebulisers and ultrasonic diffusers. Be aware that the mist may land on furniture, bedding or your pet's coat and be ingested while grooming.
Passive diffusers include reed or evaporative diffusers, candle or heat diffusers. They emit a less intense aromatic scent as there is no mechanism forcing the essential oil into the air. These are generally a safer option around the house with pets, however, we always recommend you chat with your vet prior to use.
Pets with existing respiratory conditions are at greater risk of developing respiratory distress. If your pet has any existing respiratory conditions, it is suggested to avoid the use of essential oils in your home.
With the increasing popularity of essential oil diffusers, remember these quick tips to keep your pets safe:
Always consult your Vet prior to use and follow label instructions
Avoid using oils in the same room as pets, and ensure all essential oil products are kept out of reach
Never leave your pet unattended around essential oil diffuser/vaporiser products
Source high quality and pure oils to avoid any potentially dangerous fillers
Essential oils to avoid around pets
Like with people, all pets are different, so it's always best to consult with your Vet prior to using essential oils in your home. Oils that are particularly toxic and best to avoid include:
Cats
Cinnamon and cassia
Citrus (lemon, lime, grapefruit, orange)
Clove
Bergamot
Basil
Eucalyptus
Geranium
Lavender
Oregano
Peppermint
Pennyroyal
Pine oils
Spruce
Tea Tree
Thyme
Wintergreen
Ylang ylang
Dogs
Clove
Eucalyptus
Garlic
Geranium
Juniper
Pennyroyal
Pine oils
Rosemary
Tea Tree
Thyme
Wintergreen
Ylang ylang
Signs of essential oil toxicity
One of the greatest risks of essential oils to cats and dogs is respiratory irritation. Respiratory irritation can present as:
Watery eyes and nose
Throat and nose irritation/burning
Nausea causing drooling and/or vomiting
Breathing difficulties shown by labored breathing, increased breathing rate, panting, coughing or wheezing.
Immediate treatment can be applied by moving your pet into fresh air, however if symptoms persist or you're concerned, please consult your Vet as quickly as possible.
Does pet insurance cover essential oil toxicity?
Essential oil toxicity from oils used in your home are generally covered by Comprehensive Accidental Injury and Illness pet insurance policies administered by PetSure (check our brand partners at petsure.com.au/partners), unless related to a pre-existing condition or exclusion. Please note essential oils used on your pet as treatment or alternative therapy are not covered. Refer to your policy documents and Product Disclosure Statement for more information.
Any advice is general only and has not considered your personal circumstances, so may not be right for you. Cover is subject to the policy terms and conditions. You should consider the relevant Product Disclosure Statement or policy wording available from the relevant provider to decide if a product is right for you. Insurance products are issued by The Hollard Insurance Company Pty Ltd (ABN 78 090 584 473; AFSL 241436) and administered by PetSure (Australia) Pty Ltd (ABN 95 075 949 923; AFSL 420183) through our Authorised Representatives and our distribution partners.