Summer for Australians usually involves sun, swimming, and socialising for both humans and our furry companions. Consider the following tips to help keep your lovable pooch safe during the warmer months.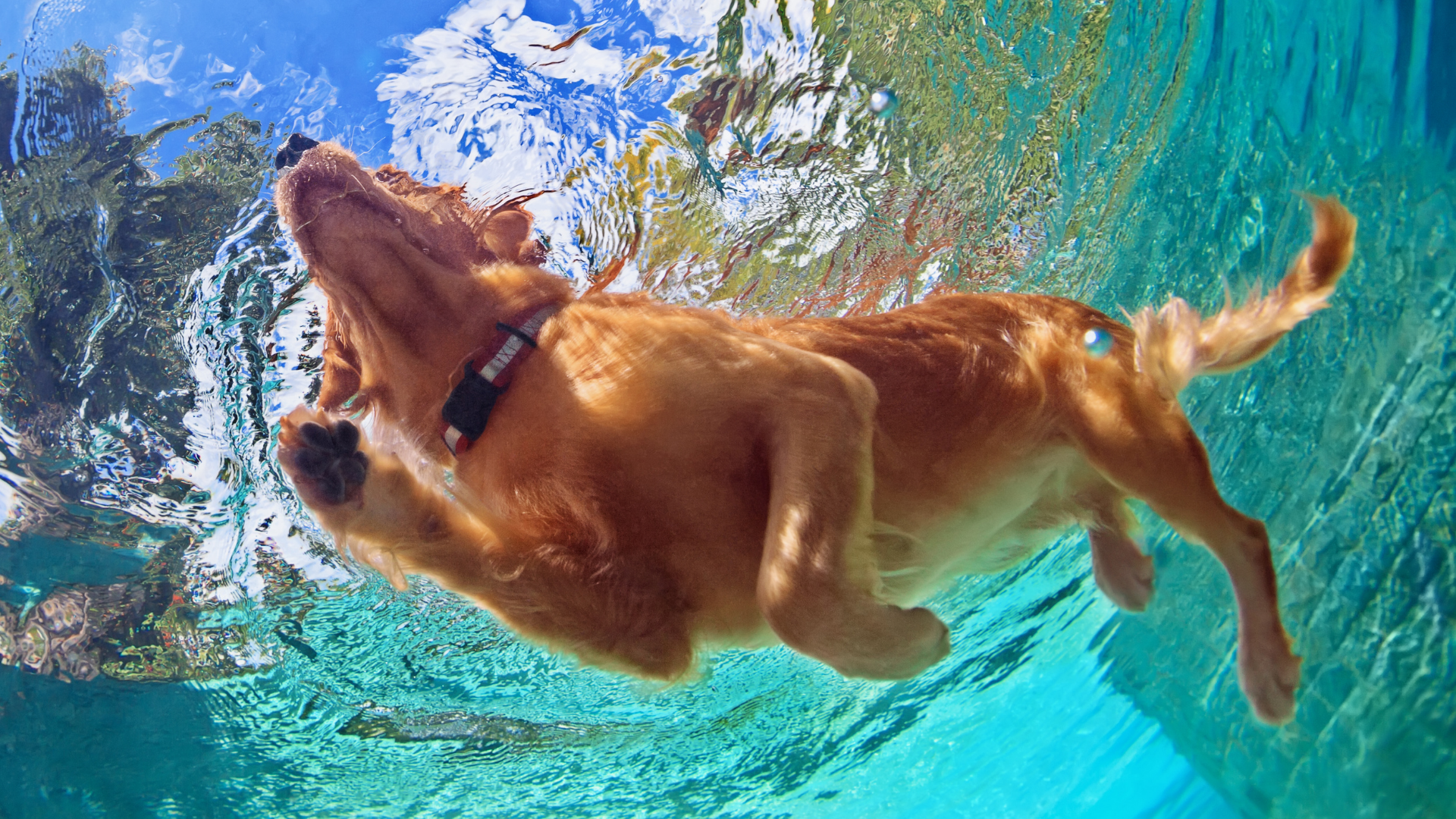 Pet and pool safety
If you have a pool at home, it is important to have rules and preventative measures in place so everyone can safely enjoy cooling off.
Pool fencing, gates and stairs: ensure gates are closed, mesh barriers are used to prevent smaller dogs from accessing the pool area and blocking or removing above ground pool steps to help avoid unsupervised access to the pool
Swimming lessons: when teaching your dog to be a good swimmer, hop in the pool and encourage your dog to come for a swim. Don't force or throw them in as you want them to be confident in doing it themselves. Be sure to stay close with arms ready to lend a hand and guide your dog in and out of the pool using the steps
If your dog loves to jump in the pool after a ball, remember to give them rest breaks and check they aren't swallowing the water as this can make them unwell
For extra safety, there are plenty of dog life jackets on the market, but these should be used as an aid, not relied upon
Weather and enrichment
Consider a shallow pet pool with fun toys in the shade. Ensure your dog can exit without assistance and the water is no deeper than their elbows to keep them safe
Yummy ice blocks: freezing a mixture of fruit and vegetables (carrots, pumpkin, blueberries, banana) and meat can provide a long-lasting cool treat. Consult your Vet for a comprehensive list of safe foods if you're unsure
Dogs are susceptible to heat stroke. Brachycephalic breeds (meaning dogs with flatter faces), overweight pets, or dogs with very thick or black coats are more vulnerable. Many brachycephalic dogs already have breathing difficulties that are exacerbated by hot weather or overexertion. According to PetSure data (from 1/7/2019 -30/06/2020) British and French Bulldogs are the most likely to suffer from heat stroke, but any breed can be affected
To help your pets avoid heat stroke, ensure they have access to a cool and shaded space outdoors. If indoors, ensure the area is well ventilated, and ensure pets have access to plenty of fresh water at all times.
Avoid walking your dog in the hottest part of the day and test the ground yourself first. As a good rule of thumb, if you can't hold your hand on the floor for a few seconds, it's too hot for your pet's paws. Remember also that if the sand at the beach is hot for your feet, it's too hot for your dogs' as well
Treatment for heat stroke is generally covered under Accident and Illness pet insurance policies, with PetSure data showing an average treatment cost of just over $900 from the past year (from 1/7/2019 -30/06/2020) for a single treatment – or just over $7,000 as the highest single treatment cost over the same period. Refer to your policy documents and Product Disclosure Statement for more information on your cover (check our pet insurance partners at petsure.com.au/partners)
Brain exercise: indoor training sessions are a good alternative to outdoor exercise when it is too hot. Keep sessions short and positive for good results
And remember – never leave dogs unattended in hot cars.
Barbeques and socialising
Your dog may not be used to having visitors. To help them feel safe and away from potential hazards, keep these tips in mind.
Provide your dog a safe space away from people and children for them to unwind such as a crate or pen. Additionally, a pen or crate will keep them safe from sneaking out the front door or gate as people come and go. Learn more about crate training on our Knowledge Hub here
Common BBQ foods such as onions, bones and skewers are all very dangerous for dogs. Last year (from 1/7/2019 -30/06/2020) PetSure recorded more than 700 suspected cases of onion toxicity. Treatment for onion toxicity is generally covered under Comprehensive Accident and Illness pet insurance policies. Refer to your policy documents and Product Disclosure Statement for more information on your cover (check our pet insurance partners at petsure.com.au/partners)
Making fireworks fun for your pet
If you've welcomed a new furry friend into your family this year, it is important to prepare them early for the end of year celebrations and fireworks.
Here are our top tips to start now to help your pup with noise sensitivity or fears (new or existing):
Ensure your dog has a safe, comfy space for only them to rest such as a crate. You can check out our article for crate training on our Knowledge Hub here
If your dog has an existing fear or phobia of fireworks:

Ensure your house and yard is secure
Keep exposure to external sound minimised by closing windows and doors, limiting sounds indoors such as loud music or people
Allow your pets space and time to choose where they are most comfortable, allowing them time to decompress once fireworks have finished
Contact your Veterinarian as soon as possible for suitable options for your pet

In case of an emergency – check now with your Vet that your pet's microchip details are up to date. Many pets manage to escape their homes during holiday celebrations, so it's always a good idea to be extra careful to ensure your furry friends' safety during this period.
So, with a little planning and a few tips for your pets, everyone can have fun in the sun this summer. Wishing you all a happy ending to 2020 from PetSure!
Any advice is general only and has not considered your personal circumstances, so may not be right for you. Cover is subject to the policy terms and conditions. You should consider the relevant Product Disclosure Statement or policy wording available from the relevant provider to decide if a product is right for you. Insurance products are issued by The Hollard Insurance Company Pty Ltd (ABN 78 090 584 473; AFSL 241436) and administered by PetSure (Australia) Pty Ltd (ABN 95 075 949 923; AFSL 420183) through our Authorised Representatives and our distribution partners.