Ragdolls were bred in California, USA in the 1960's. A friendly and calm natured cat, the Ragdoll gets its name from a tendency to go limp when being held.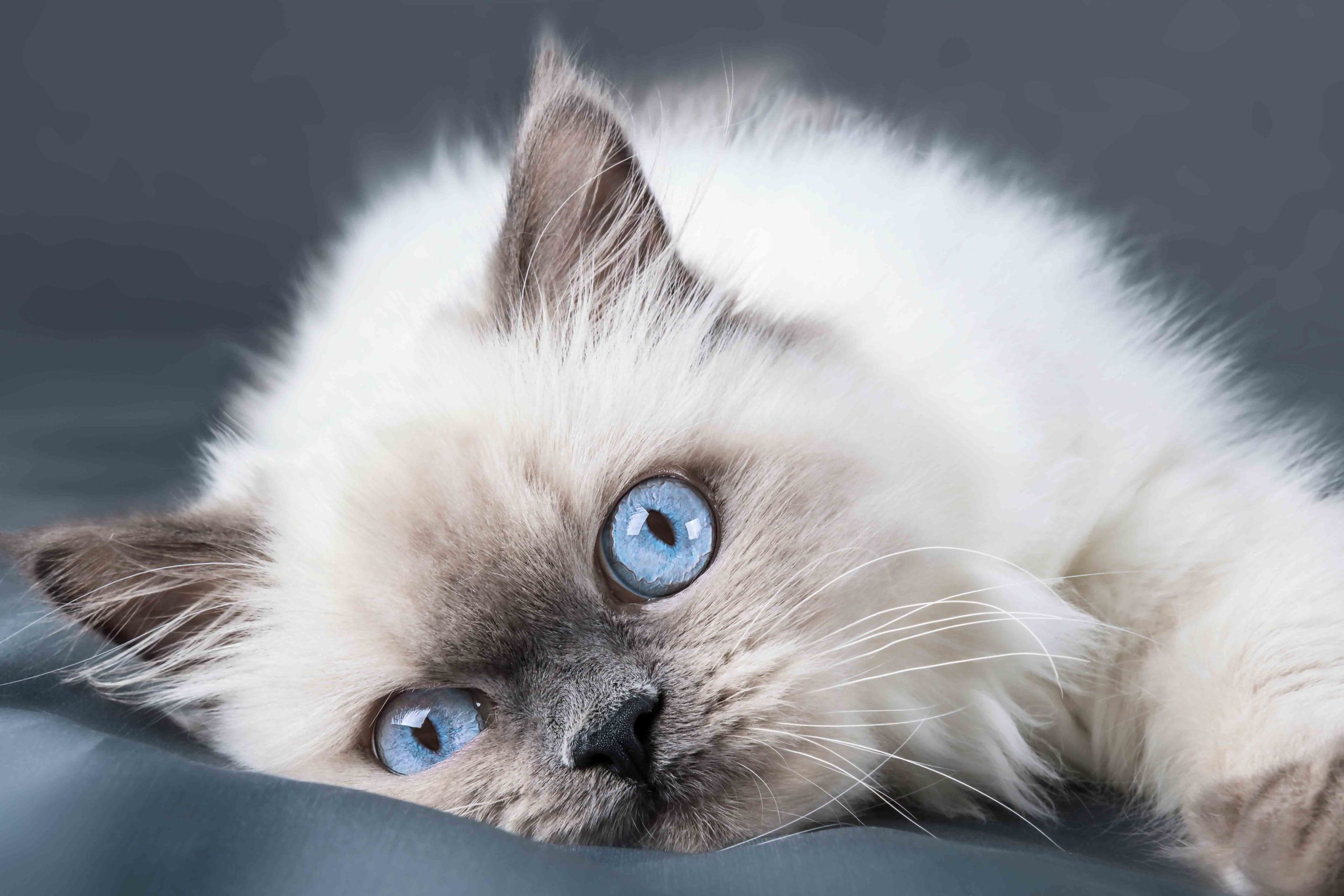 About the Ragdoll
Ragdolls are known for having a relaxed nature and may have less drive to hunt than some other cats. That said, encouraging play with toys will help keep your Ragdoll fit and healthy. They enjoy affection and aren't known for being talkative.
Ragdolls are large, long cats, and a large male can weigh up to 10kgs. They have a medium to long coat which is very soft to the touch. It is wise to gently brush kittens from an early age, so they become accustomed to it. They will moult at least once a year. Ragdolls have point colouration which means they have a paler body with dark extremities or "points". The points may be dark brown (Seal Point), light brown (Chocolate Point), frosty grey (Lilac Point) and Blue which is a darker blue-grey. Their life expectancy is around 11- 15 years.
Common health concerns
Like most cats, Ragdolls are prone to gastrointestinal upsets and urinary tract disease. The Ragdoll breed may also have a genetic predisposition to polycystic kidney disease. Cardiomyopathy or heart disease is also noted in Ragdolls. They are also susceptible to the fungal infection Cryptococcosis.
The five most common reasons for a Ragdoll to visit the Vet excluding routine care visits according to PetSure data (from 2017-2019) include:
On the other end of the scale, the top five highest single vet treatments (or highest pet insurance claims) seen for Ragdolls by PetSure (from 2017-2019) include:
Most popular Ragdoll names
According to PetSure data (from 2019), the most popular names for Ragdoll's are:
Most popular overall names
Luna
Coco
Leo
Ollie
Mochi
Loki
Mia
Milo
Kitty
Lily
Most popular female names
Luna
Coco
Mia
Kitty
Lily
Nala
Willow
Bella
Mochi
Winter
Most popular male names:
Leo
Ollie
Loki
Milo
Simba
Jasper
Joey
Mochi
Archie
Charlie
Did you know?
According to Guinness World Records, the longest living "Janus cat" was a Ragdoll. Frankenlouie was born with a rare congenital condition called diprosopia (meaning "two face"). Despite his unusual appearance, Frankenlouie survived the odds and passed away when he was 15 years old from cancer.