PetSure launches its 2023 Pet Health Monitor report, in time for World Vet Day, to review key pet health trends in Australia.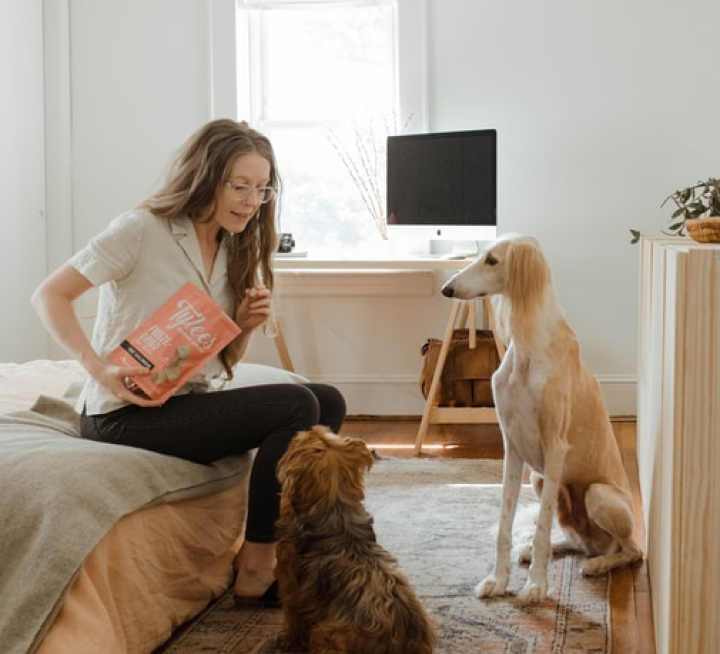 1 May 2023, Sydney – Aussie pet owners are missing a trick when it comes to ensuring the health and happiness of their furry loved ones, as new research from PetSure, Australia's leading pet insurance underwriter, reveals just one in 10 (10%) prioritise regular at-home pet health checks or routines.
The research, released alongside PetSure's Pet Health Monitor 2023 report, comes in time for World Vet Day (29 April). With the data presenting a worrying view of the current landscape, with pet parents prioritising pampering over proactive pet health checks, PetSure is calling on pet parents to do their due diligence – not just for their pets, but for vets across Australia.
With $3 billion spent every year on pet toys and accessories in Australia, pet owners don't hold back on splashing the cash when it comes to their furry friends.* PetSure research reveals 82% of owners spoil their pets with human food, gifts, clothes and toys each month, while a third (34%) of those who pamper their pets with spa or beauty, spend up to $500 monthly.
Of those who pamper their pets, one in five (20%) devote up to 5 hours a week to pampering. By contrast, 65% of pet parents that have an at-home health routine, only spend up to an hour a week on pet health checks.
Despite cost-of-living pressures, of respondents who spoil with pet tech one in five (21%) spend up to $500 monthly on specialty tech including pet fit-bits, automated ball throwers and pet cameras, with one in 10 (9%) pet parents spending $2,000 a month.
Younger pet owners are twice as likely to embrace pampering and spoiling compared to older generations, with half (50%) of 18-35-year-olds buying clothes, toys and accessories in a given month, compared with just a quarter (26%) of 56+ year olds.
The Pet Health Monitor 2023 report analyses PetSure claims data to reveal key pet health trends including insights from the veterinary field, common health conditions for dogs and cats, and tips for proactive pet healthcare.
Dr Betty Chan, Vet Advisor at PetSure said: "Like many pet owners, vets are animal lovers and they want the best for your fur baby, but pet parents need to do their due diligence. While pampering can provide enrichment for pets, it's simple things like regularly brushing your dog's teeth or checking for fleas and ticks that pet parents should prioritise.
"Being proactive with a regular at-home health routine could help detect and address issues early on, resulting in better pet healthcare outcomes. In some cases, this could mean a health condition is less complex and costly to treat – leading to a more positive experience for pets, their owners and vets.
"Being financially prepared for pet healthcare costs, such as having a pet insurance policy or savings can be important too, as it means you'll be empowered to follow the recommended course of treatment and manage veterinary expenses next time you're at the clinic," she said.
Affection Into Action
The research shows just a third (38%) of respondents can spot signs of stomach or gut issues in their pets, despite gastrointestinal tract infections cited as one of the top five health conditions for both cats and dogs, according to the Pet Health Monitor 2023 report.
Less than a third (28%) of pet parents brush their pet's teeth each week, despite it being an important way to avoid dental disease and only 36% clean their pets' ears. Given there were over 15,000 claims among PetSure customers alone for ear infections last year, knowledge like this is important for all pet owners to have.
In response, PetSure published its MEOWS* tips in the Pet Health Monitor 2023 report to remind Aussies of common health issues and tips for proactive healthcare and early detection. Dr Chan urges pet parents to remember MEOWS* – MISHAPS, EARS, ORAL HYGIENE, WEIGHT and SKIN.
| | | |
| --- | --- | --- |
| Health area | Data | Tips |
| Mishaps | Mishaps can include broken legs – in 2022, the average cost of a broken rear leg for a cat was $3,805**. | Ensure your pet is socialised from an early age to prevent fights and bite injuriesSecure your property to avoid escapes, and secure balconies and windows to avoid any accidental falls |
| Ear infections | Ear infections were one of the top five health conditions experienced by dogs**. | Remember to clean the ears every weekKeep an eye out for signs of an ear infection – if you see your dog shaking their head, scratching their ears or if you notice any discharge, seek advice from your local veterinarian |
| Oral hygiene (dental disease) | For cats aged 3 years, the average claimed amount per case for dental disease was $833***. | Regularly brush your pet's teethConsider feeding your pet dental chews as these can help prevent build up of plaque, and help maintain healthy teeth and gums |
| Weight | Being overweight can predispose pets to a variety of diseases, including arthritis, cruciate disease and diabetes. In 2022, the average claim cost for cruciate ligament disease was $2,408.**** | Keep up daily exercise, including walks and at-home playFeed your pet a balanced breed-specific diet – follow the feeding guidelines on packaging |
| Skin | Skin allergies were the top health condition for 2022 experienced by dogs, with an average cost of $520 for treatment.** | Stay up to date with flea and tick preventives Regularly brush your pet's coat and check their skin to identify problems early |
To learn about pet health trends and proactive healthcare, download the Pet Health Monitor 2023 report: https://petsure.com.au/pet-health-monitor/
References:
*Animal Medicines Australia, Pets in Australia: A national survey of pets and people, 2022
**PetSure claims data for the 2022 calendar year
*** Dental illness treatment by age. PetSure claims data for the 2022 calendar year, average claimed amount per case.
**** According to PetSure claims data 2022, some conditions with increased risk of occurring in overweight dogs and their costs.
Disclaimer:
PetSure (Australia) Pty Ltd ABN 95 075 949 923. Any advice provided is general only and does not take into account your individual objectives, financial situation or needs. Meet our partners at petsure.com.au/partners.