Valentine's Day is synonymous with flowers, chocolates, and other romantic gestures. What does Cupid have in store for you and your number one love this year – your fur baby? Read on for some tips to avoid a Valentines trip to the Vet, as well as some cute Valentine's Day ideas for you and your pets!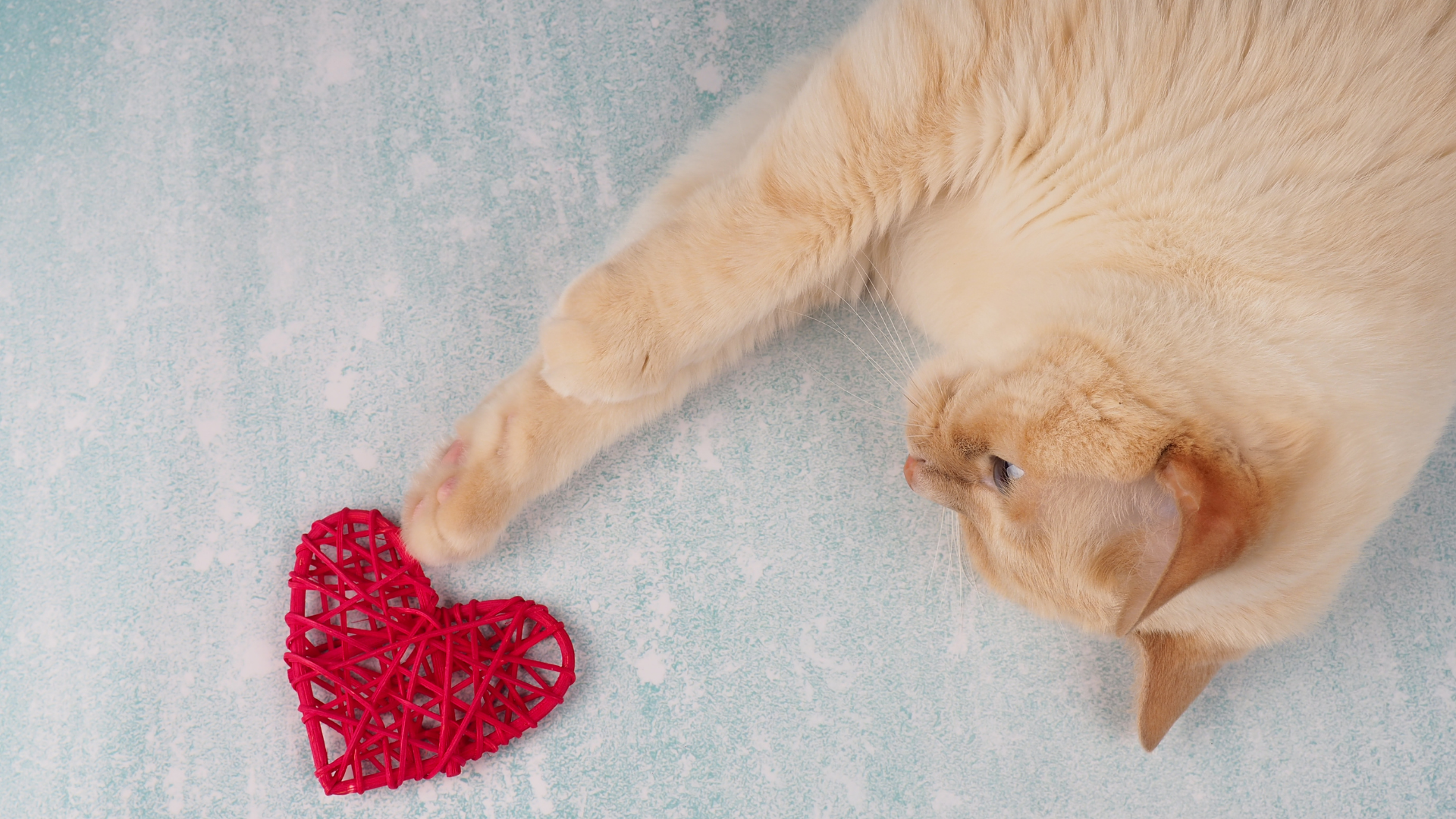 Valentine's Day Dangers
Flowers
Before you bring that beautiful bouquet home, you need to ensure it is safe for your pets in case they come into contact with them. Of course, the best option is to keep flowers away from pets even if they are considered safe, as eating a large amount of any plant can make a pet sick, as well as to preserve the beauty of your lovely gift. 
If you are a cat parent, or your Valentine is, avoid lilies as these are highly toxic in cats, causing kidney failure.
Consider pet friendly flowers instead, which include delightful Orchids (phalaenopsis sp), happy Sunflowers (helianthus sp), fabulous Gerbera Daisies (Gebera jamesonii) and lovely Baby's breath (Gyposphila). And of course, thankfully the floral symbol of love, the Rose is safe for pets, just make sure they don't get pierced by a thorn! Want to learn more about plants that can affect our pets? Check out our articles about Garden Dangers and indoor plants.
Chocolate & Sweets
Nothing says "I love you" like chocolates and other sweets, including cakes or cookies but all can be dangerous to our pets. Make sure your sweet treats are out of reach from your pets, and that you only offer your pets safe treats. Want to know more about chocolate toxicity? Check out this resource. Baked goods containing artificial sweetener can also be perilous for pets. If you don't know the ingredients of an item, it is best to keep it away from pets even if they are giving you "the look".
Celebrate Valentine's Day with your Furbaby
Regardless of your (human) relationship status, you can still enjoy Valentine's Day with someone you know loves you no matter what! Here are our top ideas of ways to show your pet you love them!
1. Bake them some home made treats
With no nasties in them and made with love, there are plenty of recipes to choose from. Always remember to take into consideration when making your own pet treats if your pet has any allergies or intolerants, you may have to substitute the ingredients out with another pet safe ingredient for your pet.
Three Ingredient Salmon Treats – For Cats
Ingredients:
1. Can of salmon or other tinned fish
2. Egg
3. Flour
Method:
1. Pulse salmon in the food processer to hop it finely.
2. Combine all ingredients in a stand mixer until it makes a dough.
3. Roll the dough to approximately 1/4 cm thickness on a floured surface then cut into desired shapes.
4. Bake until lightly browned and crispy at 180°C for approximately 20mins
From: https://www.thecookierookie.com/3-ingredient-salmon-cat-treats/
Three Ingredient Peanut Butter Banana Dog Treats – For Dogs
Ingredients
1. 1 1/2 cups gluten-free old-fashioned rolled oats
2. 1/2 cup natural peanut butter
3. 1 large ripe banana (or 2 medium bananas), smashed
Method
1. Preheat the oven to 180°C and line a baking sheet with parchment paper.
2. Blend oats to make oat flour or use oat flour and set aside.
3. Smash the peanut butter and ripe banana together in a bowl, then add the oat flour and smash with a fork to make a thick dough. If it is too dry, add 2-4 tablespoons peanut butter and mix to form a firm, pliable dough.
4. Roll the dough to approximately ¼ cm thickness on a floured surface then cut into desired shapes.
5. Bake for ~15 minutes until lightly brown underneath. Allow to cool for 10-15 minutes before sampling or sharing with your pup!
From: https://www.floraandvino.com/3-ingredient-peanut-butter-banana-dog-treats/
2. Do something together that they love (but hopefully you both love it!)
Whether it's a walk at their favourite park, playing together with their favourite toy, or just some cuddle time on the lounge, cherish some special moments together and have fun!
3. Get them a new toy
Nothing says "I love you" like a fantastic new toy to play with. You could also get creative and make a toy if that's your thing. If your local pet store allows it, your pup may even be able to select their own toy.
4. Remember them forever with a professional photo shoot
A professional photo shoot captures you both looking your best, and you'll never need to photoshop anyone out of these pics! Make sure you choose a studio who understands pets and their needs so that the shoot is fun for everyone.
5. Organise play time with their favourite friend
This probably isn't one for cat parents, but if your pup has a best play pal, organising a play date could be a great way to spend some of Valentine's Day.
They say true love is hard to find, but the bond between us and our pets is the truest of love there is.
Happy Valentine's Day!
References:
Mother's Day Bouquets: What's safe for Pets? https://www.aspca.org/news/mothers-day-bouquets-whats-safe-pets
Leoptosperum and its Relatives http://anpsa.org.au/leptos1.html
3 ingredients salmon cat treat https://www.thecookierookie.com/
3-Ingredient Peanut Butter Banana Dog Treats https://www.floraandvino.com/3-ingredient-peanut-butter-banana-dog-treats/